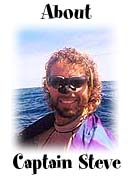 Welcome to the Da Slippa II Website
Don't forget to check back regularly for more features including more details on the next voyage. As part of this voyage, Steve Fisher will be hoping to correspond through this site and e-mail to people on the web as he makes his journey. If you or your company would like to sponsor equipment or finances to help make this a reality, then please drop us a line.
Official Member

The Explorers Club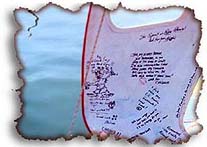 ---
Read
about Capt. Steve's amazing Journey from California to Maui in his one-man oceanic windsurfer, "Da Slippa II", which has just set a GUINNESS WORLD RECORD!
---
Do you have a link you would like added to this site? Please drop us a line and we'll sure to include it.
As the U.S.S. Missouri arrived from the Mainland, Capt. Steve Fisher sailed "Da Slippa II" out to greet her. Click here to see more.