Biography of Captain Steve Fisher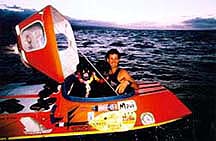 Steve Fisher was born on November 30th, 1959 in Toledo, Ohio, and was raised in Michigan. Fisher's family was really into sailing while he was growing up on Lake Erie and Lake Huron. Steve bought his first boat in 1983 in Port Clinton, Ohio, outfitted it in Michigan, sent it to San Francisco by truck, and he and a companion sailed to Hawaii.
The idea for the voyage from LA to Maui came to mind in 1987, after reading about a gentleman that kayaked from San Diego to Maui, Hawaii. He prepared a proposal for sponsorship with photos, description of the craft, and planned journey. With the backing of a prominent law firm from L.A., he submitted the proposal to seventy-five companies around the U.S. He received return letters from half, stating that they were not interested. Never heard from the other half.
Designed and built the original windsurfer, Da Slippa, in 1989, after a three month mental hiatus in Alaska. Fisher sailed the original Da Slippa throughout the Hawaiian Islands, crossing all of the major channels, surviving the rough sailing conditions Hawaii is known for.
In 1996, Fisher decided to take his dogs for a swim. Literally. Steve and his two Black Labs, "Gypsy" and "Kai", swam from Lanai to Maui -- a distance of 9.5 miles -- along with an escort boats to ensure that the animals wouldn't be endangered if conditions worsened or they tired. "But," said Fisher, "they came through like I knew they would." Fisher contacted the man who is listed in Guinness Book of World Record, Ted Ericson and his Black Lab "Umbra", who made a swim a 4.4 mile swim in Turkey. Both the windsurf trip and the dog swim have been submitted to Guinness for recognition.
Besides his involvement with "Da Slippa II", Steve has a thirty foot trimaran and does unique sailing trips with her, mountain bikes extensively, works in the activity and timeshare industry, and knows Hawaiiana while enjoying the "Maui Life".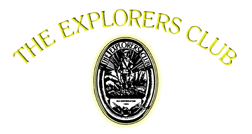 After his Pacific crossing, Capt. Fisher was inducted into the Explorers Club out of New York City in March of 1999. This is a very prestigious organization that was formed in 1905. Met John Glen, the balloonists that went around the world, and many other explorers and scientists. The windsurfer will be on display in New York at the Waldorf-Astoria for the Explorer Club's convention in March 2000.