Future Trips
STEVE FISHER TO AWARD ISLAND LEIS AT 2004 CENTENNIAL EXPLORERS CLUB ANNUAL DINNER
Waldorf-Astoria Hotel, New York City Saturday, March 20th, 2004 at 5:00 p.m.

The year 2004 will mark the centennial of the founding of our esteemed organization here in New York City by a group of prominent explorers. We will celebrate this year, as we have done for the past one hundred, with our famed Explorers Club Annual Dinner, which this year will be attended by 1,700 Club members and invited guests. The Centennial ECAD will be held on Saturday, March 20th, 2004 at 5:00 p.m.
A limited number of Patron and Platinum tickets are still available. To inquire, please call The Explorers Club at 212-628-8383 and ask for Reservations. The theme of the dinner will be "A Century at the Forefront of Exploration" and we have invited a number of our fellow members who have made historical contributions in the past century. Sir Edmund Hillary, one of the first two men to summit Mount Everest; Buzz Aldrin, the second man to set foot on the Moon; and Stephen Squyres, the scientific director of the Mars Lander Opportunity, are the featured speakers for the evening. They will be joined on the dais by other giants in exploration from the 20th century, including Don Walsh, who in 1960 made history by co-piloting the bathyscaphe Trieste to the deepest point in the Earth's oceans (35,800 feet below sea level); Bertrand Piccard, who completed the first successful around-the-world balloon flight in 1999; and Sylvia Earle, the noted oceanographer whom Time magazine called a "hero of the planet" and Steve Fisher who made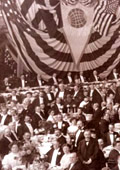 headlines with his solo voyage from California to Hawaii on his one-man windsurfer.
Jim Fowler, the Club's honorary president, well known for his appearances on television's Today and Tonight shows and Mutual of Omaha's Wild Kingdom, will be one of our masters of ceremonies. Other emcees include ECAD 2004 chair John Reilly and Explorers Club president Richard C. Wiese. In good tradition, Fowler will bring several surprise ambassadors from the animal kingdom. Lastly, a special announcement about a major scientific breakthrough in the field of paleontology will be made during the evening.
The Annual Dinner is famous for its exotic hors d'oeuvres, which in past years have included everything from tarantulas, scorpions, and crickets, to alligators and beaver. This year's menu features similar delectable, non-endangered treats...plus a few surprises.
Working with the ECAD, Steve Fisher, one of the few Hawaii members, has arranged with the Hawaii Visitors & Convention Bureau for every guest at the sold-out dinner to receive a complimentary orchid lei.
---
06/29/99 -- Latest Bulletin:
Capt. Steve Fisher announces new voyage
Man who first sailed a windsurfer from California to Hawaii attempts to tackle local the Hawaiian Islands.
KAANAPLI -- Steve Fisher, the man who set a new world record by being the first to sail a windsurfer from California to Maui, announced details of his new voyage today.
According to Fisher, he will attempt to windsurf across the state of Hawaii, "from Hilo to Hanalei."
"This will be a extremely rough 400 mile trip and has never been done before," he said of the journey.
Fisher's previous windsurfer, "Da Slippa" successfully sailed from Maui to Lihue, Kauai.
"Ask any local sailor and they will tell you that this stretch of water is extremely rough and dangerous," Fisher said, when asked about the difference in distance of this trip versus the oceanic crossing he did last time.
"The purpose of these journeys are to excite and motivate people, especially young people, about conquering the challenges of the world," Fisher said.
He is hoping to obtain a laptop and a satellite modem to correspond with people, especially kids in the classroom, on his future oceanic voyages.
In order to do this, Fisher made a public call to companies, charities and educational foundations for sponsorship of future voyages.
"I think this could be a valuable learning tool for our keikis about the power of the Internet as well as the power of the environment, " he said, noting that schools of Hawaii would especially benefit because ocean voyaging is a integral part of Hawaiian history.
########