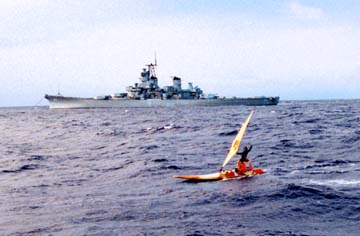 ---
Fisher heard that they planned to be off of Kalaupapa, Molokai on the 20th of June, 1998 at approximately noon. (Kalaupapa is the famous former leper colony and home of Father Damien. It's located on the very northern tip of Molokai.)
"It was a cloudy, rainy day when I arrived off of Molokai. I couldn't see anything but rain clouds. . .my visibility was only about a mile," Fisher explained. "When suddenly the clouds cleared and she appeared right behind me."
Being fast and more manuverable because of the strong winds, Fisher was able to sail circles around her under the watchful eyes of the Coast Guard. "It was being towed about six knots," he remarked, "so I was able to scoot around with no worries."
---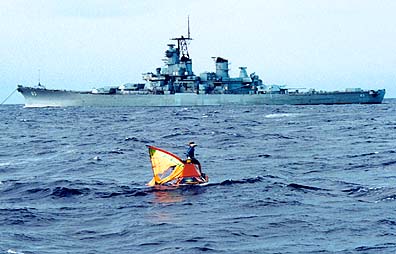 ---
According to Fisher, the journey to meet the Mighty Mo' was in stark contrast to the scene once he joined up with the aging battleship. "The trip was rough. . .the winds were howling and the seas were 10 to 15 feet. . . total chaos, but once I arrived the scene was so tranquil, I felt as if I was at peace with the sea," he said.
Capt. Fisher thought he would have to jockey his small craft around many other boats to get by the Mighty Mo', but when he arrived, the only other vessels in sight were the tugboat, the Coast Guard cutter, and the battleship itself. "I felt honored to be probably the last civilian to see her on the open ocean in all her might."
"Of all the photos of me with the windsurfer, this is my favorite one, " he commented.
---